So. Through no choice of my own I have had to re seal the Base plate on the pump.
I am now going to post what needs to be done to tackle the task yourself.
The boring stuff.
This is only a guide.
If you decide to take on the task you do so at your own risk.
Petrol as you know is highly flammable. I will advise you to disconnect and remove your battery which could cause a spark.
I would advise that the bike be left until the petrol and petrol vapour has evaporated from the area before disconnecting and removing the battery!!!!!.
Step 1)
Undo the 2x seat bolts.
Step 2) Remove the seat.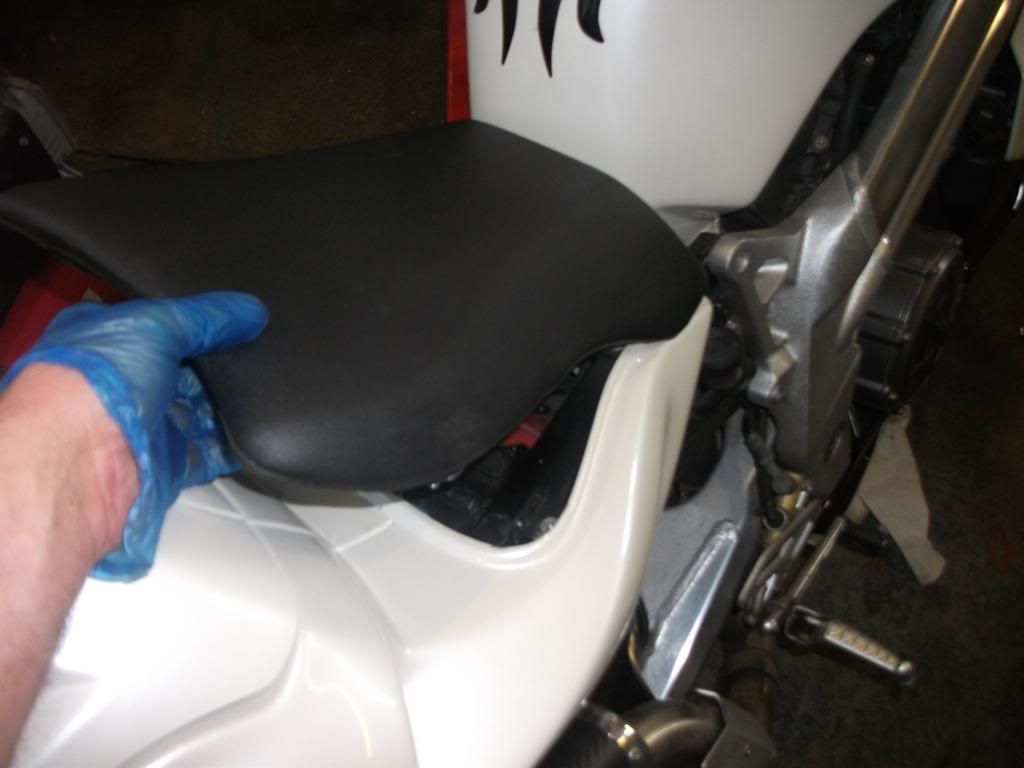 Step 3
Under the seat is the battery.
Undo the battery terminal bolts and remove the battery
Step 4) Remove the tank front bolts near the headstock.
Step 5)
Undo the petrol pipe connector .
Push the button in on the connector to release the pipes.
Step 6)
Tilt the tank back and remove the two over flow pipes.
Step 7)
There is a pipe from the tank to the throttle bodies.
Remove the air box.
Them remove the pipe at the throttle body end.
The pipe is threaded under and between the throttle bodies.
Undo the pipe and pull the pipe out.
Here is a socket on the nut.
Step 8)
Undo the four bolts at the back of the tank.
Note if battery is not removed the steel mounting bracket could come in contact with the battery terminals and create a spark!!!!!
Step 9)
Remove the tank and place upside down on a none scratch surface.
Remove the fuel pump cover screws.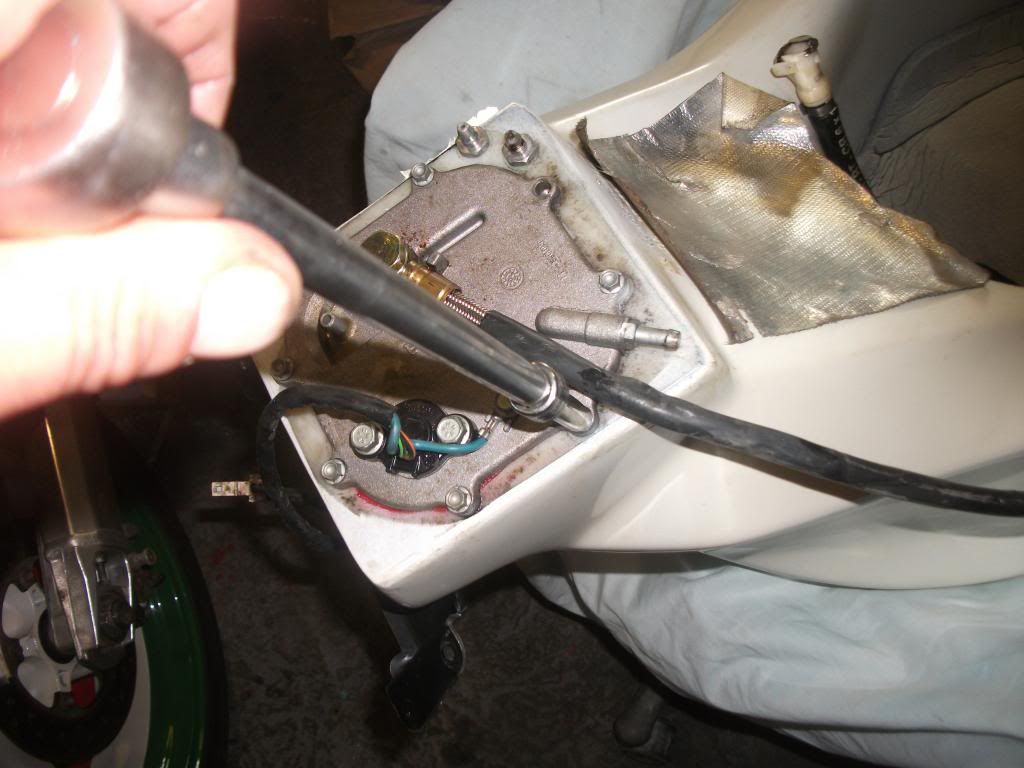 Note. Here is the pump and filter if you decide you want to change the filter.
Step 10)
Remove the seal and clean the pump surface ready for re assemble.
Clean in the groove where the seal sits.
Refit the seal into the base.
Step 11)
Clean the tank base.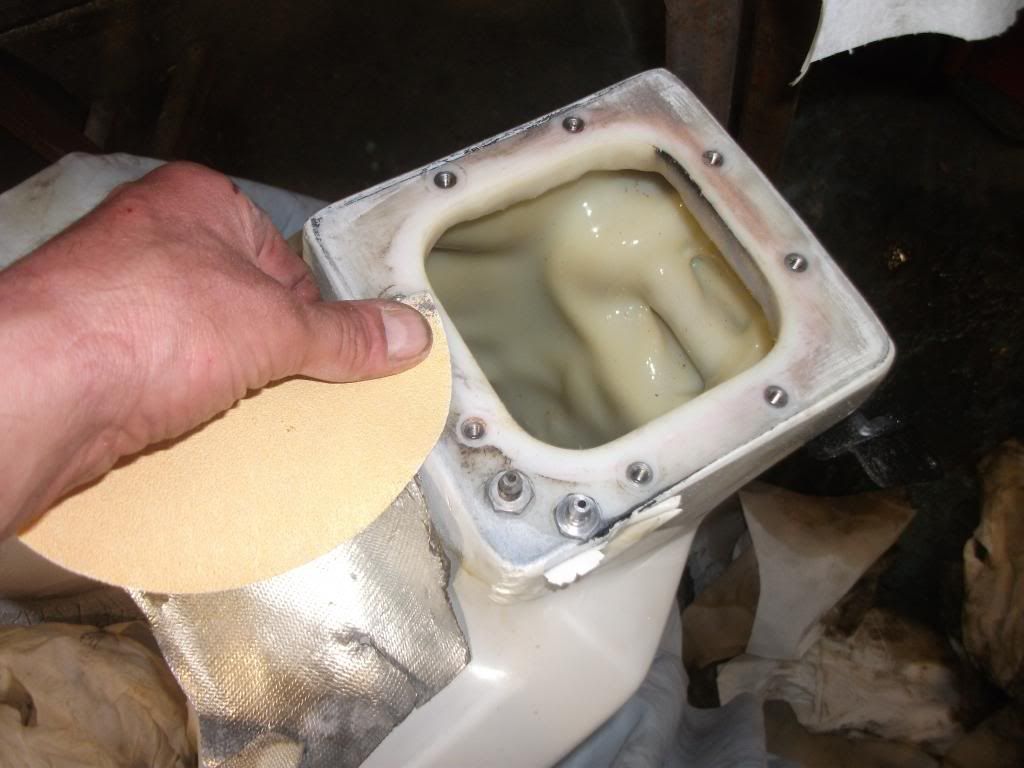 You will need this.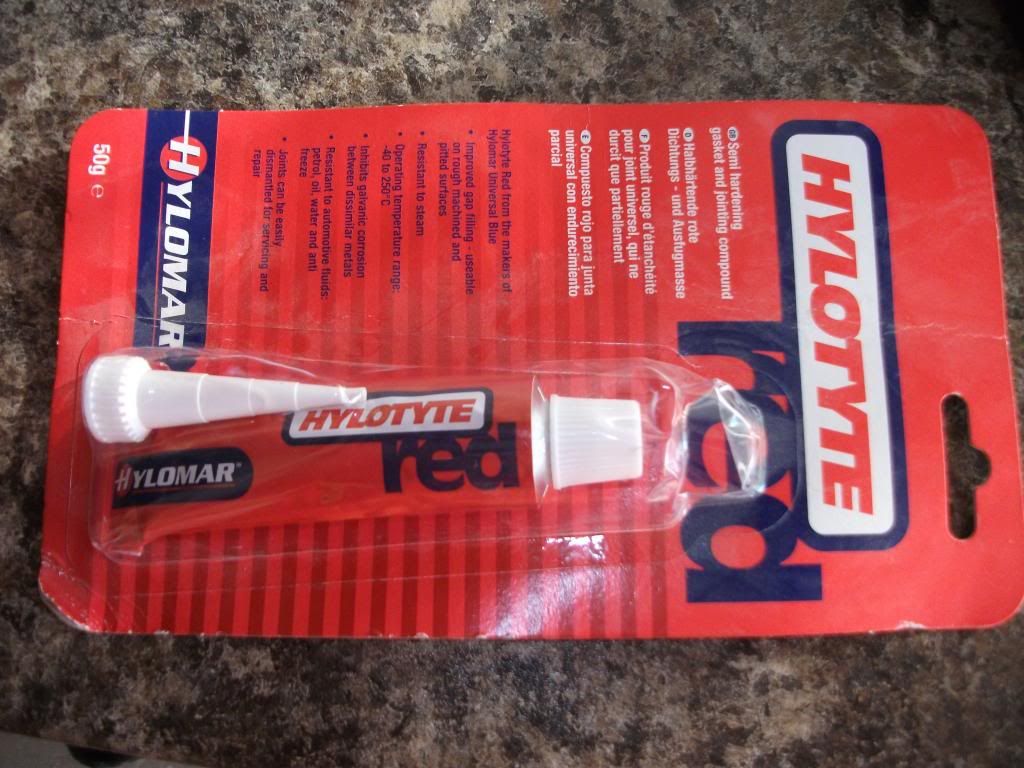 Step 12)
Cover the tank with the red paste as shown.
Note there will be excess when fitting the pump base.
I would put some of the paste on the pump base also before fitting to the tank.
Refit the pump base plate and bolt back into place.
Check torque settings from the owners manual.
Rebuild the bike back up in reverse to re-assemble.